8-Cup Micom Cooker
TFC-5817
Multi-Functional Cooker with 10 Preset Cooking Modes: White Rice, Brown Rice, Porridge, Oatmeal, Soup, Steam, Stew, Slow Cook, Reheat, Congee
Automatically Keeps Warm After Cooking
24-Hour Timer
Touch Control Pad
Easy-To-Read LED Display
5/64" Thick Non-Stick Aluminum Inner Pot
UL Certified
Made in China
Description
Enjoy easy home cooking with the Tatung Micom Fuzzy Logic Rice Cooker. It comes with all essential elements – large 8-cup capacity, up to 11 programed cooking functions, programmable preset timer, automatic keep-warm function etc. The stylish, modern design with sliver stainless steel body and light gold top cover makes it the ideal cooker to keep on your countertop.
8-Cup Thick Nonstick Inner Pot
The thick inner pot has a large capacity of up to 8-cup, ideal for preparing family-size meal. The nonstick coating makes cleanup a snap. Also, a steamer is included for steaming and reheating vegetables and foods.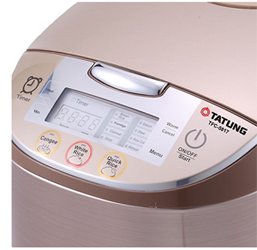 11 Programed Cooking Functions
The Micom Rice Cooker provides three selected quick cooking program for quick rice/ white rice/ congee cooking, and features eight preset cooking functions - including Brown rice, Porridge, Oatmeal, Soup, Steam, Stew, Slow cook, and Reheat - to suit your various needs.
Clever Designs
For the ultimate convenience, the Micom Rice Cooker comes with a rich set of user-friendly designs.
The touchpad digital control with LED display allows for easy setting and monitoring of cooking times.
The programmable timer allows users to preset the cooking time.
The keep-warm function automatically keeps rice warm for hours after it finishes cooking.