Samsung's groundbreaking 5.2 cu. ft. High-Efficiency Top Load Washer with Active wash is a true game changer in the laundry room. This washer has a built-in sink for pre-washing your clothes. No more soaking clothes in the sink and getting water all over the floor when transferring garments from the sink to the washer. This one-stop solution for all your treating and pre-washing needs comes complete with water jet and scrubbing board. This washing machine also features AquaJet Deep Clean Technology that cleans your clothes deeply, but gently.
Built-in sink right inside your washer for all your stain removal and pre-washing needs. Scrub and soak with the help of the water jet, and when you're ready to wash, simply lift the sink to let items fall into the washer.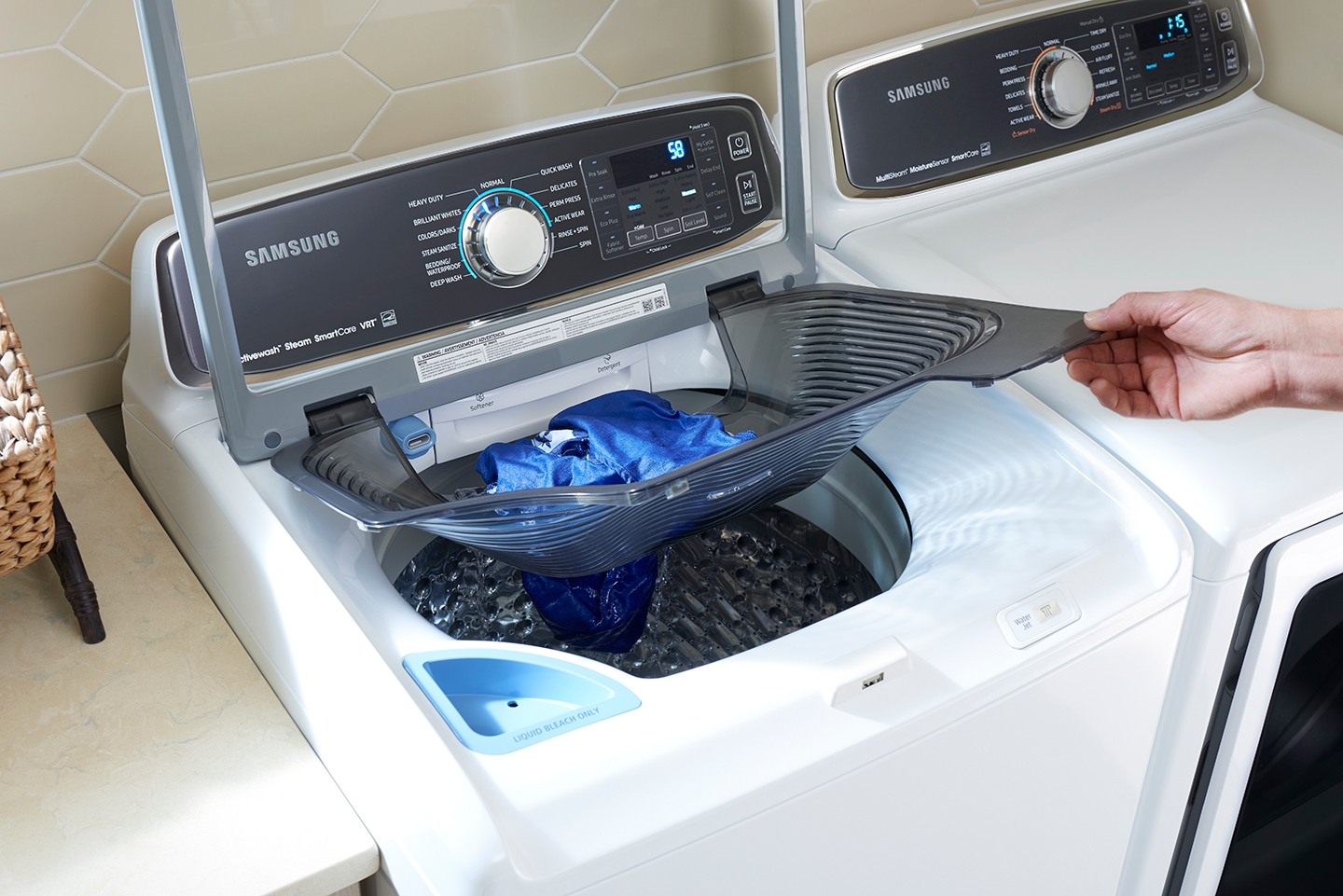 Stainless Steel Pulsator
More durable and prevents scratches or nicks from metal zippers.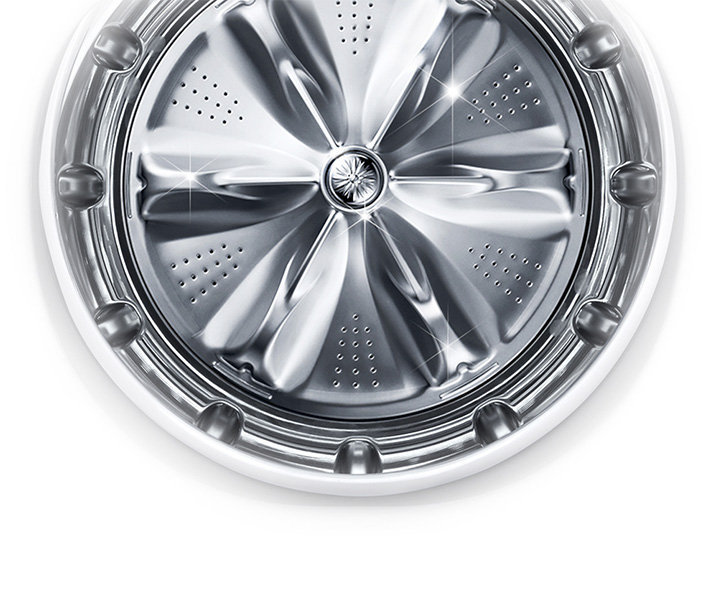 5.2 cu. ft. stainless steel basket handles bigger loads to let you enjoy more time in the living room instead of the laundry room
Diamond Drum has smaller holes in the washer drum to help prevent fabric from being caught and damaged
Steam Wash
Uses the power of steam to remove stains without pre-treatment. Unlike other washers which release steam from above, Samsung releases steam from the bottom of the laundry tub, saturating every item in the load and leading to an even deeper clean.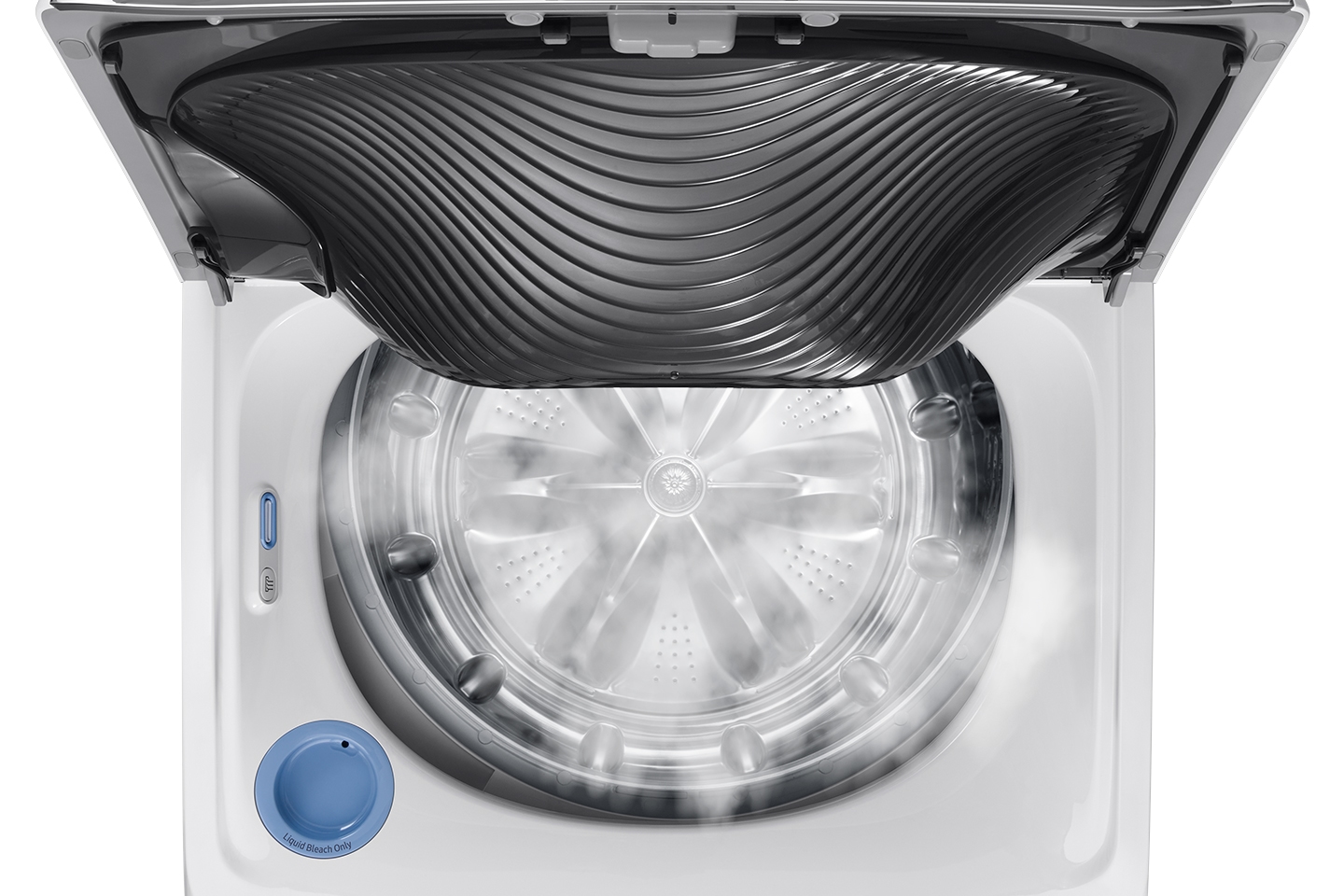 13 Preset Wash Cycles - Normal, Bedding/WaterProof, Heavy Duty, Permanent Press, Steam Sanitize, Colors/Darks, Brilliant Whites, Active Wear, delicates/Hand Wash, Quick Wash, Rinse and Spin, Spin Only, Deep Wash
Smart Care
Troubleshoot straight from your smartphone. Smart Care interacts with your washer and dryer to perform an immediate diagnosis and offer quick solutions.*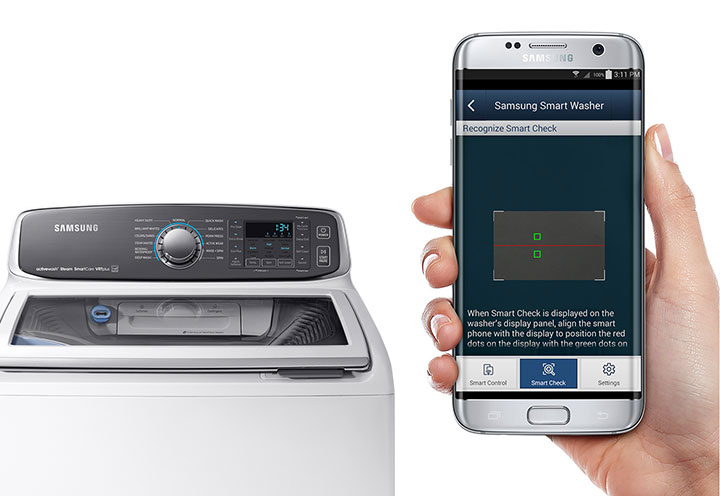 *Available on iPhones & Android devices. Smart Washer/Dryer App available on Google Play and iTunes App Store.
Electronic controls, including a digital time remaining display are easier to operate and keep you informed of the laundry progress
Preset cycles automatically select soil and spin levels to optimize washing performance
Automatic water level adjustment helps save on energy costs
Reduces vibration 40% more than our standard VRT™ for quiet washing. An innovative tub design and special sensors keep heavy loads balanced even at high spin speeds. Upstairs laundry has never been less obtrusive – run your washer upstairs while your children are asleep.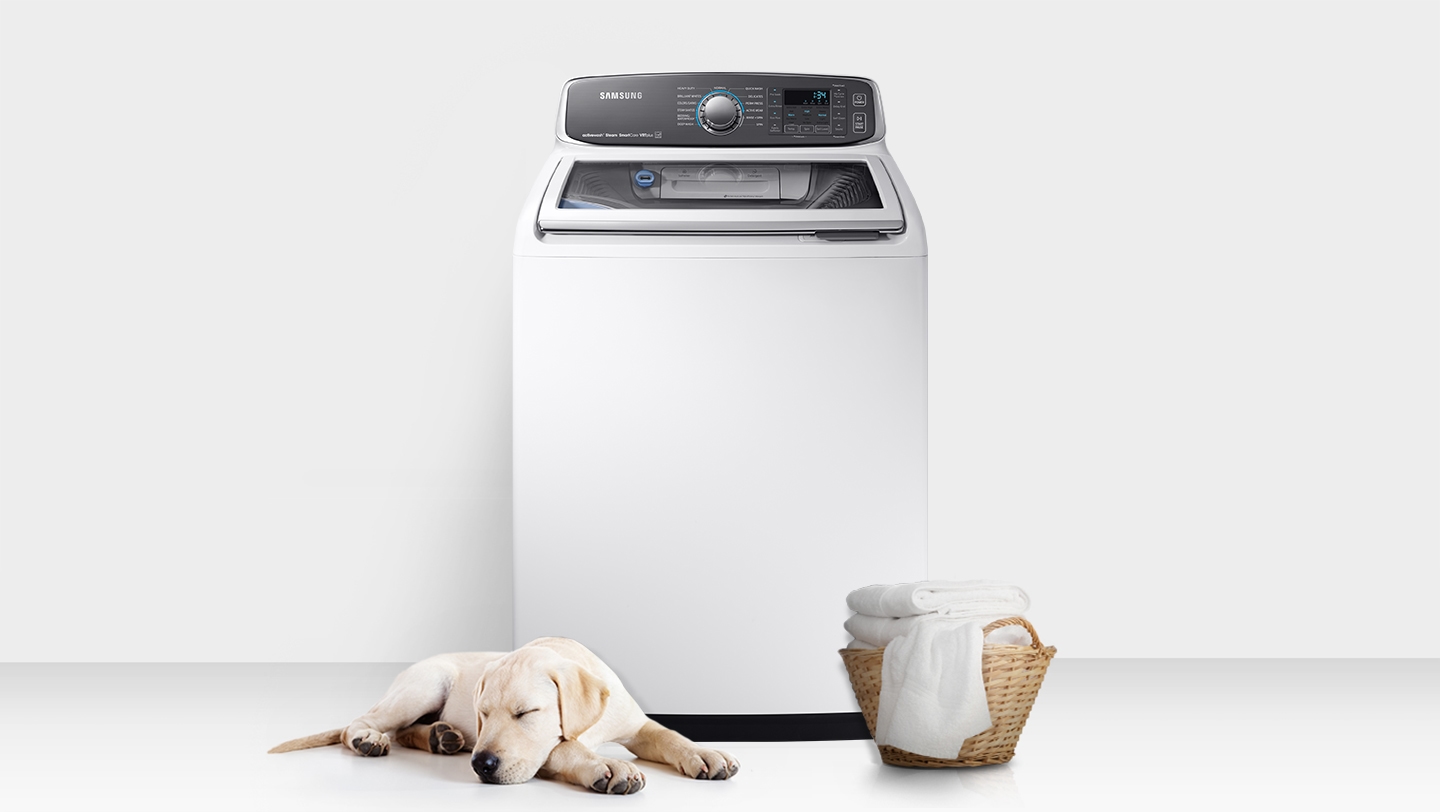 VRT (Vibration Reduction Technology) with Special sensors keep the drum balanced, so you'll hardly know our washer is on, now you can install your washer on the second floor or near bedrooms without being disturbed by noise
Direct Drive Motor is a high tech beltless/gearless motor that reduces wash vibration and noise
Conveniently placed detergent drawer with ball bearing glides.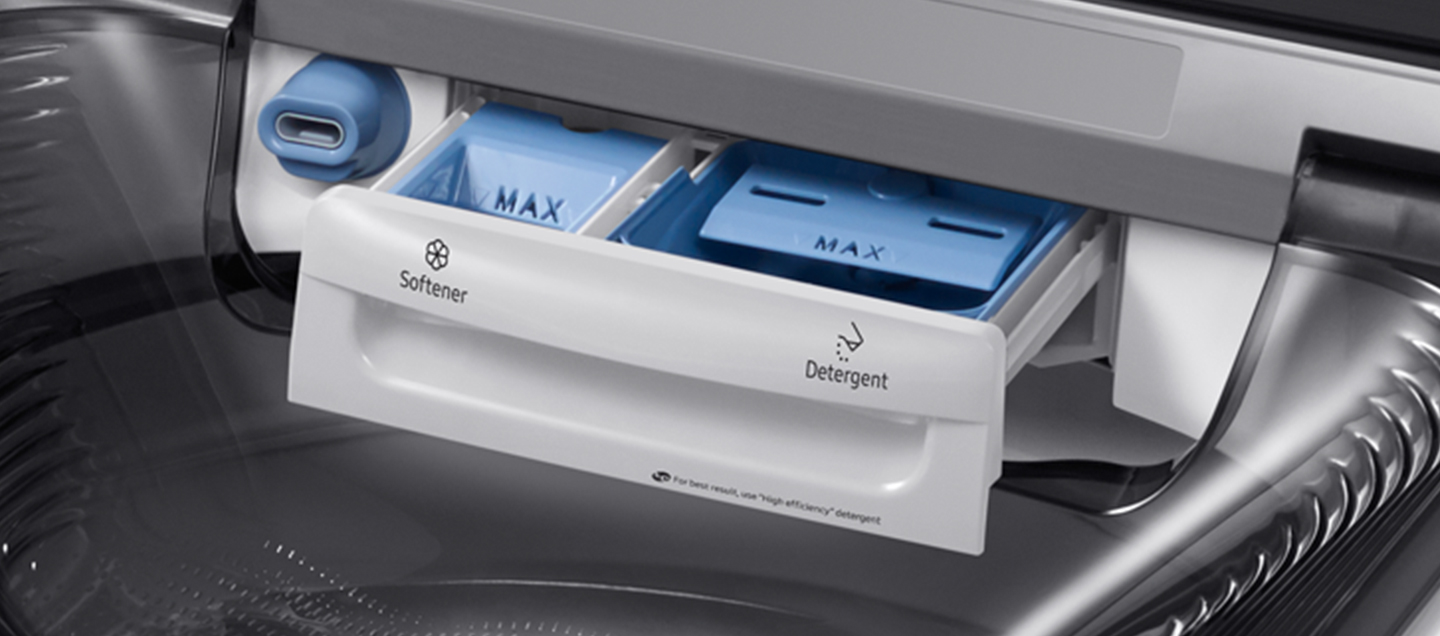 Mist Shower
Sprays your laundry with water at the beginning of the rinse cycle to help remove detergent residue.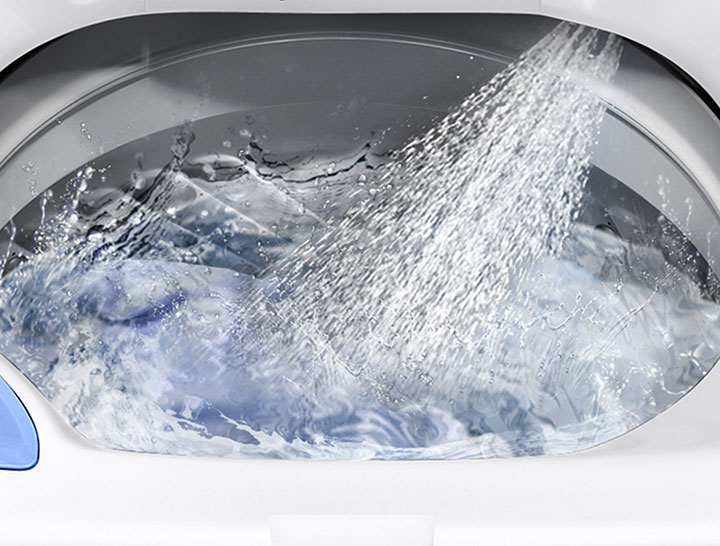 Soft Close Lid
The Soft Close Lid closes safely, gently and silently, so there are no frightening banging sounds and less risk of accidents!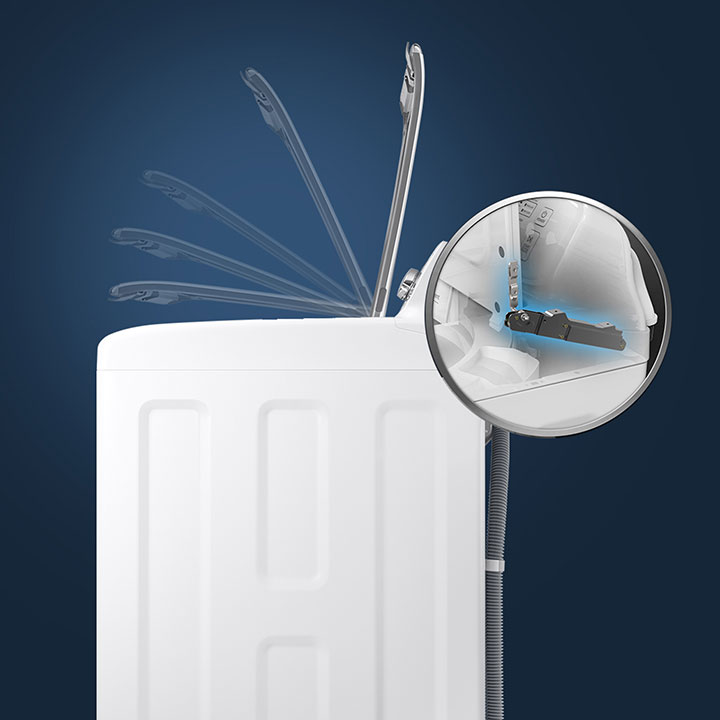 Swirl drum interior
This enhanced swirl interior helps extend clothing life by treating fabrics gently. Small water holes help prevent fabrics from snagging and being damaged, allowing fabric care with deep-clean results.
ENERGY STAR®
Certified

ENERGY STAR® certified, so you can save money by conserving energy. Independently evaluated against strict specifications and is proven to save energy without sacrificing performance or functionality.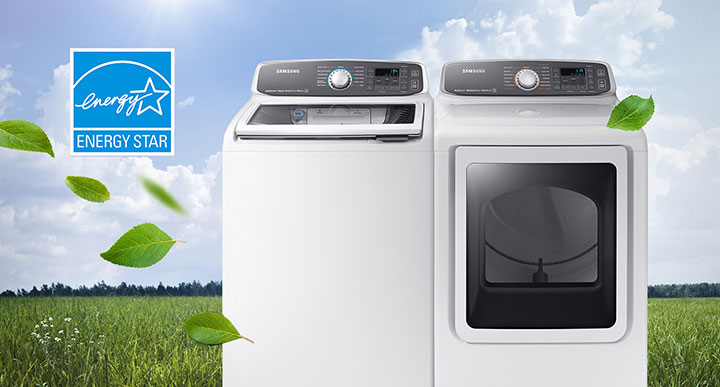 Washer capacity has a direct impact on how much time you spend doing laundry. Larger tub size means fewer loads, and fewer loads mean more time doing other things you love.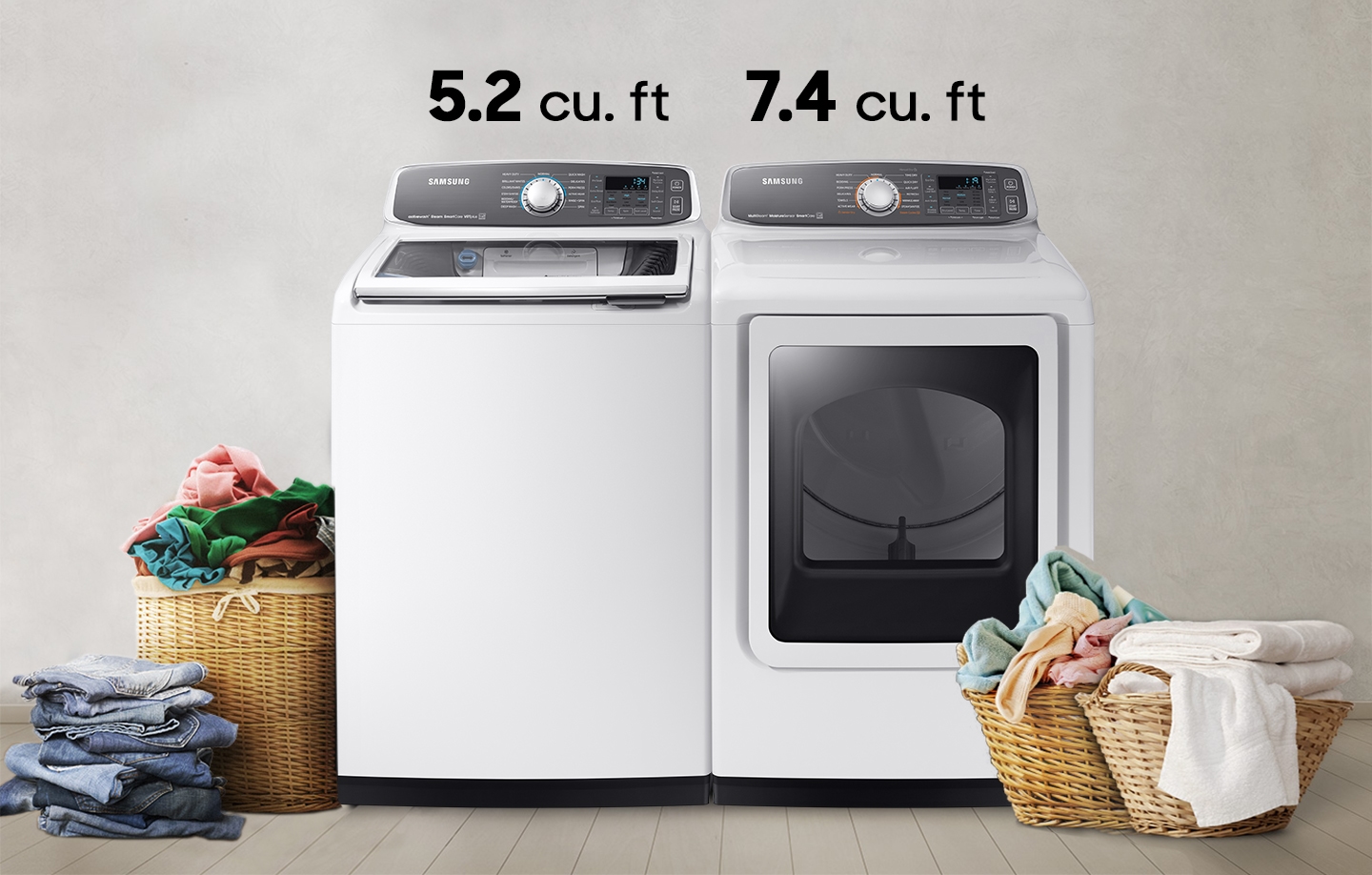 Self Clean
Keeps your washer tub fresh and clean by using a combination of soaking, pulsating and high speed spinning to remove dirt and bacteria. Self Clean also sends reminders to clean the tub every twenty wash cycles.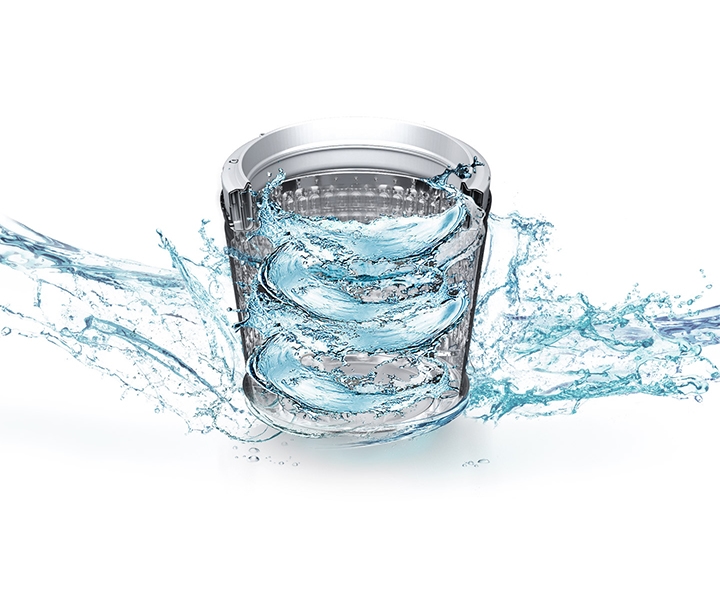 Perfect pair
Samsung washers and dryers team up to make light work of laundry day, while looking great in your laundry room.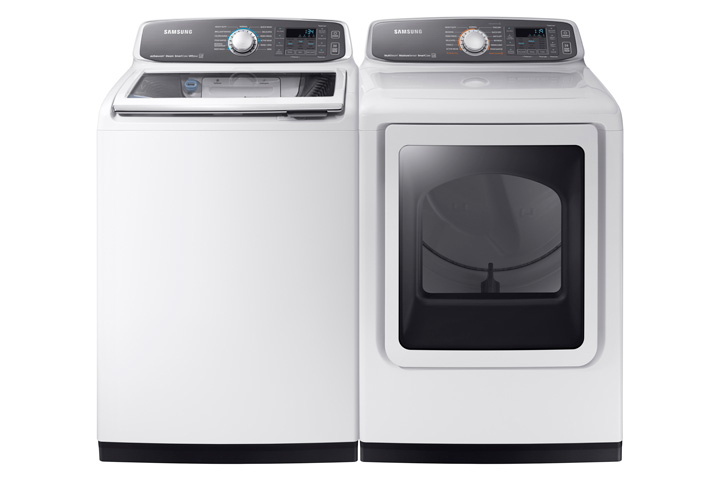 Key Features


Vibration Reduction Technology™: Yes

ENERGY STAR® Certified: Yes

Total Capacity (cu. ft.): 5.2 cu. ft.

Steam Washing Technology: Yes

Energy Consumption: 165 kWh/year

Energy Gallons / Year: 6596

ENERGY STAR® Certified: Yes

Cycle Time (AHAM 8lbs): 56 min

Washer Capacity: 5.2 cu. ft.

Product Dimensions:

27" W x 46" H x 29.3" D

Shipping Dimensions:

29.56" W x 48.19" H x 31.06" D

Product Weight: 143.3 lb.

Display Color (LED): Ice Blue